Style | Themes | Albums | Singles | Stream
******* R E V I E W S *******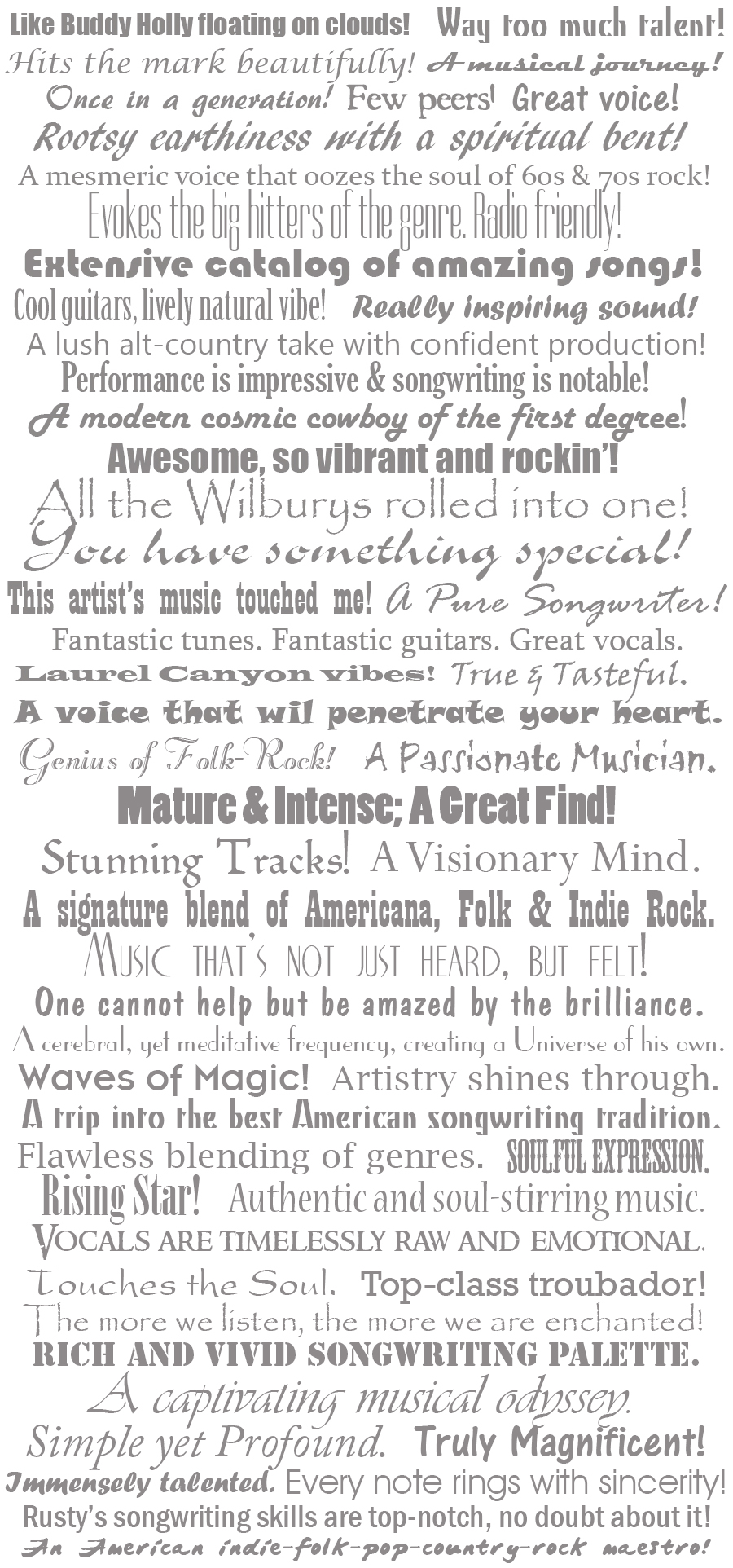 LATEST RELEASES:
Back-to-Back Politically-Charged Singles


August, 2023
---

Bayou Line: Songs from Houston
Album Release: Jan 2023

---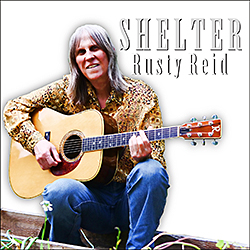 Shelter
Single Release: September 2022 - Remix/Remaster
---
The Style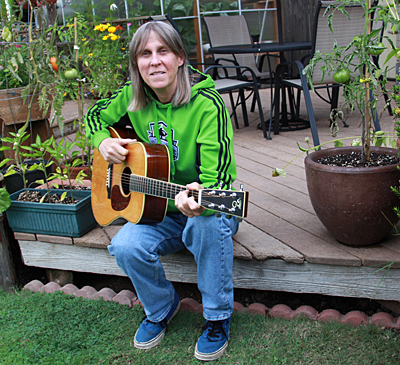 Rusty Reid's music is not easily categorized. The first impression may be country. No, maybe it's more country-rock. Now that one is more straight-up rock. Wait... this one is sorta folky. But then that one sounds kind of poppy. Actually, it's an alchemy of influences, which range from pop to rock to country to folk to blues, with even the lilt of show tunes seasoning the mix. It's indie rock, alt-rock, alt-country, country-rock, pop-rock, folk-rock, something-rock. Continuing on today, Rusty has been open to a wide variety of influences. The link between all of them: distinctive singers, distinctive songs, often a guitar with attitude, no clones in the bunch.
You Can't Take Texas out of a Texan
Even though he hasn't lived in the great state for decades, he remains a Texas songwriter, but not so much the traditional spinner of wild tales and clever phrases about livin' and lovin' like the poet masters Kris Kristofferson, Guy Clark, Townes van Zandt, Nanci Griffith, Jon Dee Graham, Lyle Lovett, Vince Bell, Steve Earle, Joe Ely, Rodney Crowell, Mike Fuller, Jimmy LaFave and a whole lotta others. Rusty angles for something a litle different: spiritual revolution - personal and cultural.
Many acclaimed songwriters place utter confidence in the raw quality of their lyrics integrated with simple melodies and sparse instrumentation, sometimes just acoustic guitar. Such a bare-bones approach tends to focus the listener's attention on voice and lyrics. That may be why Roy Orbison and Billy Gibbons and Don Henley, master soundscape-crafters, are often left off lists of the best Texas songwriters. Rusty likewise aims to fold vocals and instrumentation into a unique soundscape, which can have the effect of actually diminishing the perceived potency of the lyrics. Yet probe Rusty's lyrics and there are to be found nuggets of original, profound, poetic insight, and certainly an emotional, philosophical, spiritual journey that is uncommon in pop music.
Rusty is a straight-forward writer, his messages to the point, not abstractly couched. You won't have to wonder where Rusty stands on the big issues that affect not just proximate life and love, not just the here and now, but the wider world for centuries to come and back to the beginning of time. Rusty doesn't write about cars and trucks and beer and girls in bikinis; he writes about mind and heart and soul and the Universe. The themes have evolved over the years, from standard love and place songs to ever more sophisticated (and cutting) social commentary. His songs spring from his own philosophic and spiritual searches, which seek to synthesize the best of the new with the best of the old in order to address dysfunctions that have plagued humanity (and, thus, the rest of the biosphere) for far too long. In that regard, not that much has changed over his five decades as a songwriter. Rusty songs have always featured singular melodies, and even the "protest song" thread has been there all along. "Some of my earliest songs were social commentary. Not that I knew much about what I was commenting on at a young age, but I was struggling to make sense of the world and absorbing what I was hearing coming from radio and records. I was, and still am, a child of the 60s. As time went on, a lot of my generation seemed to lose their idealism, optimism, hippie values. Somehow, I didn't. For me, those values just grew stronger."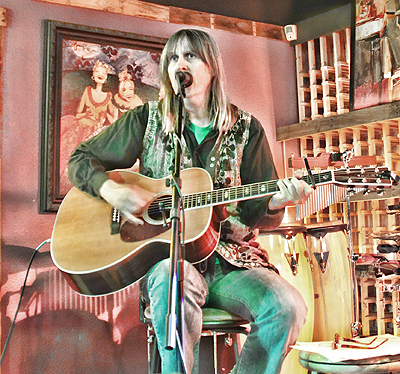 A Voice From the Plains
The spirit of the windswept Llano Estacado still warbles in Rusty's voice. He sounds, sometimes, like fellow West Texan, Orbison, and other times veers towards the timbre of Elvis Costello or Orbison's Traveling Wilbury bandmate, Tom Petty. He dodges between baritone and tenor, and weaving from reedy to husky vibrato. A recent ReverbNation survey review of the song "Head to Heart" (with no further information available to reviewers) elicited predictable perceived similarities to Orbison and Petty, but also Chris Isaak (OK, we can hear that one)... but Zac Brown, Jim Croce, Dwight Yoakum, Gary Allan, Brad Paisley, Garth Brooks, Michael Stipe of REM, Elvis Presley, Bob Dylan, Paul McCartney, Jeff Tweedy of Wilco, Kenny Chesney, Art Garfunkel, Jimmy Buffet, Ben Schneider of Lord Huron and John Denver?! Make sense of all that, if you can.
In the years following the quick vanishing of NWXSW in 2001 and other events which carried Rusty on currents far away from music, there came a point when he thought there was no return. And, in his mind, there was little point to return if it was just to write rotely themed songs. Rusty elaborates, "The biggest impetus for returning to songwriting was to continue to probe larger themes, political, philosophical, universal, spiritual themes. At my age, I should have learned something by now. I should have some kind of wisdom to impart. Otherwise, popular music is probably best left to young people exuberantly exploring their individualism, emotions, sexuality. That's all fine and good and fun; those artists are full of energy and look great, and that's what sells. I wrote my share of those kinds of songs, but it's not wisdom, it's often not even morality, much of it is just self-centeredness. I'm not interested in that anymore. Because of the trajectory of my life, I have had the opportunity to go deep into a wide range of different issues; I've traveled the world and burrowed deep into history, philosophy and religion, searching for and finding some profound truths. So the entire point of my songwriting now is to bring back what I have found, not to glorify me but to put a melody to the memes. I'm bringing the truth and music is the vessel. Some people call it 'preachy.' So be it. What they may not realize is I've vetted these words with the best minds in history. All of them were, in a sense, 'preaching.' Last time I checked, 'preachers' sometimes have some widsom to impart."
Tellin' It Like It Is
Rusty's lyrics are direct, to the point, no messin' around... no doubt about what he means. His lines arrive sans the obfuscations and abstractions that often accompany folk-rock lyrics, yet somehow they remain poetic.
Some people say you must wait
For any hope to see paradise
But heaven's waiting just beyond our mind gate
Follow raven's lead... and fly!
-- The Meaning of Life
So now the crossroads where we've arrived
Demands a choice of every soul alive
Do we continue down this road of ruin
Or mingle with the universal tune
That we can ne're express... yet easily can feel
-- There Is A Pleasure In The Pathless Woods
Om, Sound of Creation
Where spirit is sown
Lover come lie with me
Lover come fly with me
Lover arise with me
To see the jewels of light
-- Sat Cit Ananda
"I've never been much interested in writing so abstrusely that listeners have to guess what a song is about. I love allegory and metaphor, word play and stream of consciousness writing, but my approach is usually to have an idea to convey, and to say what I mean."
For the Love of Melody
Rusty's songs seek to blaze new melodic trails, while still remaining accessible. It's a tricky balance. The prime role model is the Beatles (again), who cranked out song after song that was eminently pleasing and listenable, rarely dissonant, but nevertheless hardly a melodic clone of another song, including any of their own. Eschewing the rote, template melodic formula of many Americana musical forms - folk, country, blues, bluegrass, zydeco, etc. - Rusty leans on his pop music, even show tune, sensibilities when working out the melodic structure of his material. "I have to admit I get bored after listening to just a few songs in certain genres," Rusty explains. "Sure, the playing may be great, the lyrics may be clever, but if it's basically the same melody over and over and over again, what is it really? I'd rather sit through a bad musical play than two and half hours of modern country music. At least with the musical, you have a chance to hear something melodically unique." Rusty has been playing with melody since he was very young. "Wherever the family would go in the car, I would be making up and singing melodies in the back seat. No words, just la-la-la. It probably drove everyone else crazy. When I started writing actual songs, it was the lyrics that were the hardest for me, and they actually were pretty terrible for a long while. It was how easy the melodies came that kept me trying to be a songwriter. To this day, I take my melodies very seriously. The last thing I want to do is be lazy and let them down by settling for something that's been sung a million times before."
In Search of the Riff
Rusty is a Texas guitar player, more than a strummer, but nowhere in the company of the likes of Stevie Ray Vaughn, Billy Gibbons, Eric Johnson, Bill Browder, Rick Poss, Gary Clark Jr. or any of the other numerous, luminous, Texas fret-gods. Nevertheless, his playing evokes an original, plaintive style, stripped down but ever melodic arrangement of notes. He's the furthest thing from a shredder, relying instead on simple but memorable runs, earthy tones, sustained notes and no holding back on the whammy bar. His chimey, twangy approach also reflects a strong 1960s imprint from the classic signature riffs (such as on Orbison's "Pretty Woman") of American and British pop-rock, surf music, spy flicks and spaghetti westerns. "I don't have any flash, so I'm always looking for that unique guitar hook or run that seems familiar but is actually unique to the song," Rusty explains. "That is one of the key aspects I loved about 60s music. It seemed like every song had one of those riffs or runs. We have mostly lost that today. I'm quite happy to be a throwback in that musical regard." (For some of Rusty's most interesting guitar bits listen to: Oh Well, Eldorado, Dismaland, Dark Ages, Earthquake City, Barbarians, Ancient Stones, I Went Searching, Sat Cit Ananda, Too Many Poor, That's When the Fall Began, Careless, Through His Name, Shelter, All Through My Days, Boys of Summer... to name a few).
On his recordings, Rusty has also not been shy about bringing other guitar-slingers into the mix. "I've been very fortunate to play with some sensational guitar players: Al Bruno, Steven Beasley, Rick Poss, Ray Hamilton, Pete Moceri, Ronan Dempsey, Daniel Ribeiro, Brent Mason, Tom Wild, Jason Roller. These guys took it to another level."
In The Raw
Rusty's recordings are mostly hand-made, home-made. They may lack the polish of high dollar studio rooms and gear and the careful massaging of engineering, mixing and producing wizards, nor has Rusty ever had the support of a consistent set of bandmates with whom to collaborate, experiment, build and hone a singular style. Compared to the glitzy perfection of one of today's top sellers, each of Rusty's songs is a somewhat crude world unto its own. Still they flow, the voice and guitar orientation recognizable clues, along with those lush melodies matched with heartfelt, personal lyrics even when the topic is universal.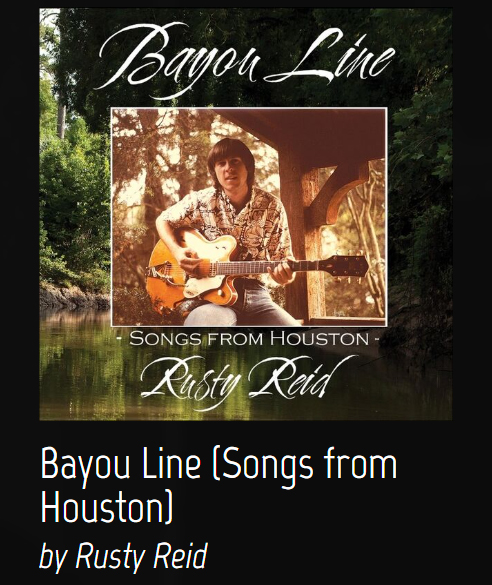 2023: Bayou Line: Songs from Houston
Northern Latitudes Records
Copyright Rio Paso Music (BMI)
Bayou Line is Rusty's third album, this time something of a retrospective. The album is comprised of 17 songs that Rusty wrote or recorded during his time in Houston, Texas, from August of 1970 through May of 1984. These are old favorites of Rusty's and his original fans, not previously released, that are given new wings. All of the songs (except for one: "More Than St. John's") have been recently re-recorded, sometimes with arrangements true to the original versions, and some with brand new interpretations. In sum they showcase the development of Rusty Reid coming into his own as a lyricist and melodist.
Click on the album cover image, at right, for images, lyrics, backstories, articles, interviews, reviews and more info from Bayou Line.
Order "Bayou Line" (signed by Rusty) - $11.99 (plus shipping)
---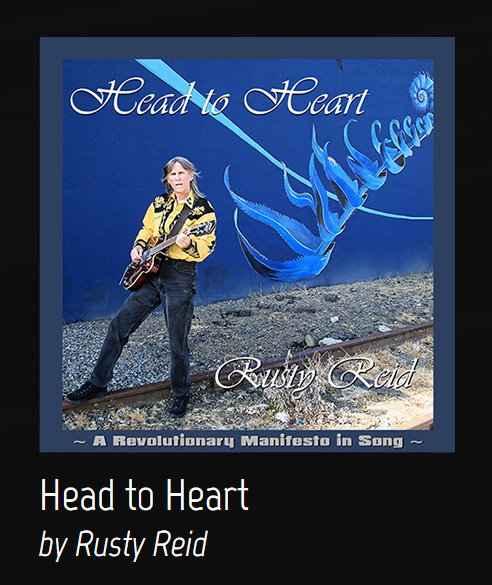 2019: Head to Heart
Northern Latitudes Records
Copyright Rio Paso Music (BMI)
Head to Heart is Rusty's "comeback" release, after over a decade of losing musical energy. As the new songs flowed, beginning in 2015, on to notebooks and thence to the digital audio workstation in his home studio, a remarkable album slowly emerged with an identity like few other singular collections of songs. This is certainly one of American popular music's most radical, revolutionary albums. With a running time of 78 minutes (the maximum for a standard CD), comprised of 15 full songs (and three snippets), Head to Heart is at once a delineation of a profoundly beautiful and deeply spiritual worldview, combined with a frontal assault on those hoary old traditions and institutions that thwart "our best chance to thrive." All told, it is a call for grand human cultural evolution. A revolutionary manifesto in song!
Click on the album cover image, at right, for images, lyrics, backstories, articles, interviews, reviews and more info from Head to Heart.
Order "Head to Heart" (signed by Rusty) - $11.99 (free shipping)
---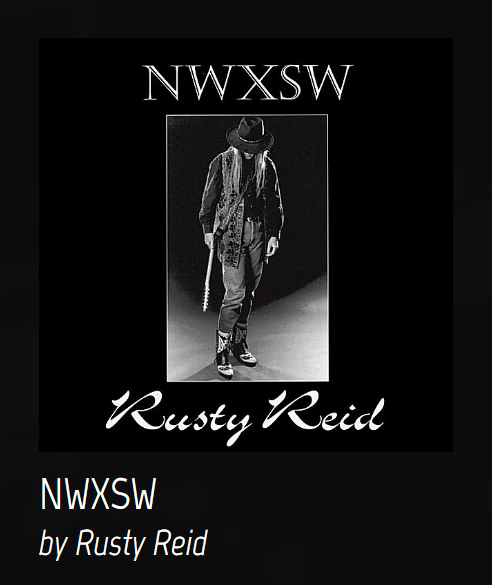 2001: NWXSW
Northern Latitudes Records
Copyright Rio Paso Music (BMI)
Rusty conceived NWXSW (Northwest by Southwest, Rusty's personal journey) as a "best-of" sampler of his songs and various styles. He assumed this could be his one and only album. It includes 14 songs. The recordings date back to Houston and the early 1980s with his band, the Unreasonables, and carry forward through his 11 years in L.A. from 1984-1995, and thence to Seattle area songs from 1995 to 2000. The album track list is arranged in quasi chronological order (from when they were written) combined with an attempt to load the poppier songs up front; the album gets more serious as it goes along. NWXSW includes one cover song and two new songs (at the time), the last two on the track list, "Where Do We Go From Now" and "Barbarians."
Click on the album cover image, at right, for images, lyrics, backstories, articles, interviews, reviews and more info from NWXSW.
Order "NWXSW" (signed by Rusty) - $11.99 (free shipping)
---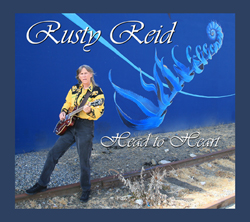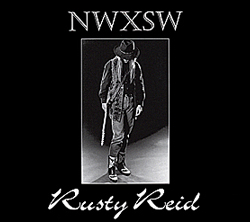 BUY ALL THREE Rusty Reid albums (signed by Rusty) - $27.99 (free shipping)
---


Single Releases
(Click single cover image for lyrics and info)