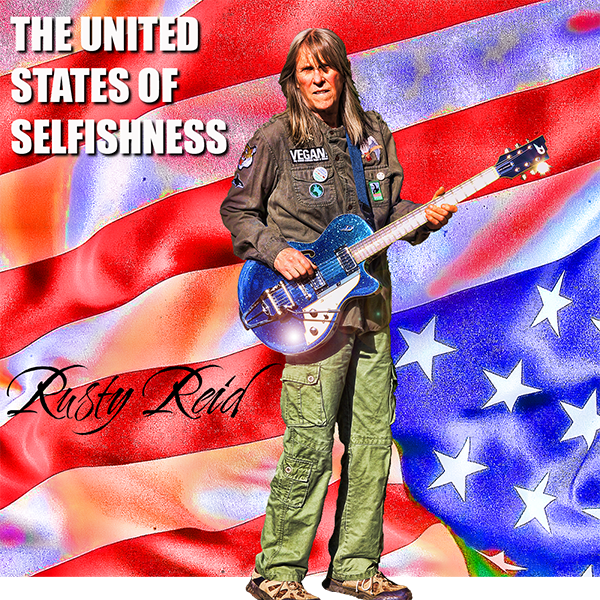 Listen/Download/Stream
|
Reviews
|
Lyrics/Notes

The United States of Selfishness
Single: Original Release: November 11, 2020
Single: Remix/Remaster Release: August 1, 2023
Northern Latitudes Records
Copyright © 2020 Rio Paso Music (BMI)
---
ABOUT THE SONG:
"This song took a circuitous route to coming alive. It is inspired by the late Jimmy LaFave's song "Worn Out American Dream," which I recommend you listen to. In fact, I had intended to cover that very song but add a different third verse. Jimmy's version merely repeats the first verse, which songwriters often do, but in this case I thought Jimmy should have kept going with his train of thought. With my Nashville guys, I recorded a version of my modified version of Jimmy's song, then sent it to his publishing company for permission to use. They showed no interest. So I wrote my own full song, retaining the same backing track we had planned to use for the cover version, though now with different words and notes. Like "Worn Out American Dream," which was written a quarter of a century ago, my song takes on the broken promises of America to a majority of its citizens who are financially struggling and face real oppression from a self-entitled minority, and so are never going to reap the liberty, equality and justice FOR ALL that our country likes to think it is based upon... though has never delivered. All of Jimmy's concerns still exist, but now there are even more dangers than he addressed, an increasingly militant conservative push-back on social equality efforts, a shocking rape of truth, science being shunted to the sidelines, cruel official policies being implemented, America breaking ties with its allies while coddling dictators as fascism rises within our own borders. I had hoped to co-write a song with Jimmy, but now I think it's for the best that both of these songs now lurk... out there in the interwebs... to call out America's liars, cheaters, thieves, polluters, oppressors, destroyers, even as they are garbed in the flag and waving a Bible, while calling on America's true defenders to do some rising up of their own."
-- Rusty Reid
REVIEWS FOR "THE UNITED STATES OF SELFISHNESS"
"Awesome, again appreciate the political subject matter and messages, agree completely."
-- American Pancake
"Rusty, appreciate your courage and need to sing political tunes - this is a solid song."
-- Glide Magazine
"Very cool track here, I love the energy here. Vocals are solid."
-- Alchemical Records
"Salient and crisp vocals playing well. Radio-friendly pop rock."
-- Obscure Sound
"Insightful lyrics, enjoyable vocals. Strong guitar-driven bridge."
-- Indie Obsessive
"Rusty - You are challenging me on so many levels! I marvel at your incredible talent and walk away from your music with a haunting sermon in my head that compels me to search even harder for answers in these troubling times. Your unwavering message is stark and unnerving and yet, in the weirdest way, very comforting."
-- Nancy A. Lynch
"Totally dig the sentiment in the lyrics. I think this is a world wide thing. We have it in the UK on a smaller scale. Nice work on the lyrics. Guitars are cool. I reckon you should do well on college and mainstream US radio."
-- Leg Puppy
"Hey, it's a lovely track. Loved the country rock vibe. I think the vocals are brilliant, the beginning of the track is really soothing. Reminiscent of country Rock, Folk Rock, Outlaw Rock, Kris Kristofferson, Tom Petty, Phosphorescent, Willie Nelson."
-- Buzz Beat News
"The lyrics are rich. The performance is outstanding."
-- Broadtube Music
Thank you so much for sending me this cool song. I've added it to my Spotify playlist. Chorus is great! Classic rock.
-- Eric Alper
"Very of-the-moment, obviously. And very on the nose. Well put. And nice to hear someone who isn't afraid to speak their mind instead of trying to please everyone. It all works OK for me. The track is very majestic, soaring, anthemic. Great guitar work, especially the solo. Seems to sit right at the midpoint of folk, country and rock. But ultimately, I would classify it as protest music. Mostly sounds like you."
-- Tinnitist
"Nice track. lovely vibe, acoustic guitars and really felt guitar solo! It's a well produced song with interesting parts. IŽll have to say I really like the southern vibe on the track."
-- MrLndr
"Nice vocals, like the melody. Those background electric guitars give the overall song a nice ambiance and touch. Vocals are really good and the overall production and mixing of the song is on point. This is in the vein of classic singer-songwriters Bob Dylan, Bruce Springsteen, Van Morrison, Paul Simon, Neil Young."
-- Rocktails.tv
"Heartfelt rock and roll with a country edge. Nice gentle acoustic guitar and piano. The steel guitar gives a very country vibe. The vocals are perfect for the vibe of this song. Here we go! Well done. Long overdue. All the feels."
-- Free Bike Valet
"Really liked the production and your voice fit it well! I enjoyed the message and it was so timely! I really feel that it all fit well man! I don't have anything bad to say! Great songwriting!!! You have a great sound, but if I had to pick someone I would say it reminds of Ryan Adams :)"
-- Lou Vier
"Wonderful vocals. The singing is honest, loved the soulful vocals! Also, great and heartfelt lyrics, telling the sad truth. Sincere and honest writing. Amazing guitar solo. Also loved the final part!"
-- Indie Music Center
"I like the way it builds with the uplifting of lead & acoustic guitar riffs, and once again the vocal has a beautifully tender edge that brings the powerful lyrics to life. The nostalgic guitar layers really stood out for me. It's a sound of a certain era that will definitely strike a chord with some listeners. It's got elements of different genres including classic rock/Americana/folk, hard to pin down to one genre. Sounds a bit like something you can imagine Springsteen singing."
-- PlayList Boutique
---
LYRICS/NOTES

THE UNITED STATES OF SELFISHNESS

There's a nation in the balance
There's a country going down
Institutions are a wobbling
There's an evil circling round

There's a rot inside the belly
Of the state we say we love
A sickness of the national mind
We just can't get rid of

It's as old as the republic
Tory disdain for democracy
Confederate zeal for hubris.
And white, Christian male supremacy
Seedy, greedy, corporate corsairs
Running loose across the land
The United States of Selfishness
Is a nation built of sand

What of the poor and infirm?
Conservatives don't give a damn
Black lives, brown lives, women and workers
Reduced to servants for the scam

See the brownshirts emboldened
Claiming this nation for their own
Some say the days are numbered
I'll put my faith in sea and stone

The American Dream lies bleeding
Run through by subterfuge
How we got this far is a wonder
Culture held together like a kluge
America is drowning and ablaze
This might be our final stand
The United States of Selfishness
Is a nation built of sand

Don't know how it came to this
Was it ever really real
The dream sabotaged by sophistry
As were our founding ideals

Seems more like a nightmare
To those enslaved and shoved off their lands
And those whose rights hard-won
May yet slip right out of their hands

Don't hide behind tradition
We're long past due for something new
Too much of the good world beaten down
Too much believed that is not true
Can you not hear the silent screams
Of the oppressed like they can
The United States of Selfishness
Is a nation built of sand

Music & Lyrics by Rusty Reid
Copyright © 2020 Rio Paso Music (BMI)

To the memory of Jimmy LaFave
---
Rusty - vocals, electric guitar
Jed Demlow - keyboards, bass
Jason Roller - acoustic guitars, electric guitars
Darin Watkins - drums


| | | |
| --- | --- | --- |
| Jed Demlow: keyboards, bass | Jason Roller: guitars | Darin Watkins: drums |
---