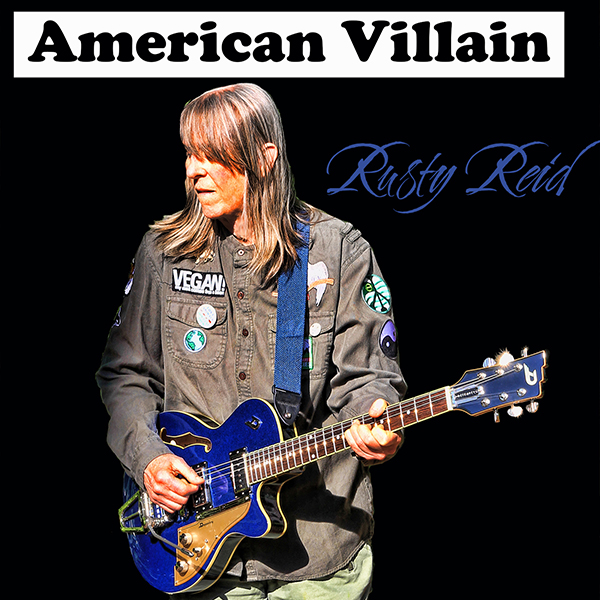 Listen/Download/Stream | Reviews | Lyrics/Notes

American Villain
Single: Original Release: October 31, 2020
Single: Remix/Remaster Release: August 2, 2023
Northern Latitudes Records
Copyright © 2020 Rio Paso Music (BMI)
"Shortly into Donald Trump's term as president I realized that he is truly a villain. in every sense. He's a liar. He's a conman. He's a chauvinist. He's a racist. He's homophobic. He's anti-science. He's anti-democratic. He's a thug. He's a thief. There have been other dastardly characters in American history, but none have reached such a high level of chicanery. I started to think of him as the "American villain." And, of course, I had to write a song about it. I had hoped to get the song released earlier, but things happen. Anyway, the song is as much about his followers as it is about him. We will be rid of this villain sooner or later, but will be stuck with the problem of his cultists. So I think the song will remain relevant for quite some time, and hopefully serve as a cautionary tale of how (apparently) easy it is for some such charismatic thug to cause half the nation to swoon. You'll notice the villain isn't actually named in the song, but I trust that everyone - including those who support him - will know who it refers to."
-- Rusty Reid
---
REVIEWS FOR "AMERICAN VILLAIN"
"This song is GREAT...!!! I TRULY enjoyed it. It's 'telling it like it is'...!!! The writing, arranging, performance and engineering on this are Stellar... Thanks so much for all of this..., and most of all for sharing this with the world at large... Thank you Rusty."
-- Richard Gleichmann
"That is pure craft at work! It is a phenomenal track and I felt every guitar note!"
-- Affinity Ascension
"Awesome track!"
-- Music & Fashion Blog
"'American Villain' is the fiery new Indie-Rock political track from Seattle-based singer-songwriter Rusty Reid as he shows his frustration, and ultimately anger, with how the previous four years has gone in the USA. Rusty Reid is a true singer-songwriter who has seen the ups and downs of the music industry. This is a true American comeback story. This is a man who knows who he is deep inside and being totally honest is one of them. Rusty Reid sings about his true feeling on Donald Trump with his new single 'American Villain'. He went with his gut and releases a brave single that is all about how things have gone backwards in the country he loves. With a gritty voice, skillful guitar playing and lots of lyrics that cut deep into the truth, this is a singer to be admired."
-- A&R Factory
"Great track, appreciate the poignant political lyricism and theatrical quality."
-- American Pancake
"Hey Rusty. Good to hear from you again. This song couldn't be more timely, obv. Or more lyrically pointed. Musically, seems like your signature blend of Texas hippie and British Invasion, with a dash of heartland rock. All the Wilburys rolled into one. Especially George and Roy."
-- Tinnitist
"A nice and honest way to express your folk vibes. Suggests Neil Young, Counting Crows, Beck."
-- Son of Marketing
"Once you begin listening to 'American Villain', you can pretty much assume who it is about. Then when you get to the lines: 'A cheat, a creep, a crook, a thief, traitorous commander-in-chief' you can be assured this song is about the one and only Donald Trump and his reign of terror over the United States. One interesting line states, 'The history books will warn of conservative plague,' and I hope they do because history books tend to have a way of forgetting a lot of the bad things which happened in history and paint it in a way which seems to benefit someone else. So, if you have kids or plan on having kids when you're older, when they're old enough, let them listen to this song as a history lesson and way to have an open conversation about the 'American Villain.' Through these words Rusty Reid does more justice than I could typing up paragraph after paragraph. One of the differences between this song and me trying to type up how I feel as well is that Rusty Reid makes it sound good. This is dreamy rock n roll, which reminds me of Stone Temple Pilots to some extent but also a theme song from James Bond. How I wish time aligned so that Scott Weiland could have done one 007 song. But having the music of Rusty Reid might in fact be better. He's the voice of a generation which everyone might not agree with but he's right and he's got loads of talent."
-- Raised by Cassettes
"Nice one. Reminds of Neil Young, not the timbre of the voice but the guitars and the melody. We've added your track straight to the top of our Rattler Radio Jams spotify playlist and followed your spotify profile."
-- Rattler
"Nice mixture of indie rock and pop. There's a little bit of classic rock here, such as Bowie and Echo & The Bunnymen."
-- This is Pop?
"Performance is impressive."
-- Broad Tube Music
"The song is good, well produced, the realization is on point, everything is well done here."
-- Iggy Magazine
"Rusty's confident sound is again crafted with real care and attention to mood."
-- Various Small Flames
"The song is solid with great production and the writing is strong."
-- Global Money World
"Really interesting vocal style on this one."
-- Mind Noise Network
"Beautiful production. Amazing sound."
-- PrecisionSelect
"Good energy, I like your voice."
-- Conversations about Her
"Really cool, great vocals here."
-- Alchemical Records
"Strong recording quality."
-- Digital Tour Bus
"Your vocal delivery is awesome and your lyrical style is great; you have a talent and you are making music with real passion."
-- Yellow & Black Music
"Lovely singing and catchy rock vibes!"
-- Banger Sound
"Cool ideas behind the track and professional arrangement. Overall great creativity."
-- SecretElectric
"You have one of the best voices of this kind of music! You have so much talent and your lyrics are so original. Your vocal performance is very professional and the melodies are incredibly catchy."
-- Cheers To The Vikings
"Liked the moody tone and guitar work."
-- CLOUT
"This kind of has an action film cinematic vibe to it."
-- When the Horn Blows
"Lovely track. Evokes Tom Petty."
-- Beat Buzz News
"Effective vocal emotion, enjoyable guitar. Lyrically interesting."
-- Indie Obsessive
"The song has this intense and energetic rock quality throughout that we appreciated."
-- BangerOfTheDay
"Confident rock effort that has some classic rock spirit."
-- We All Want Someone
"Hello Rusty. Dig the intro guitar part. Cool melody. Cool addition of vocal harmonies and string sounds. Cool lyrics. Nice change in harmony and guitar melody. Dig the guitar harmony and counterpoint. Cool falsetto. Solid songwriting."
-- Staccatof
"Very clean guitar and classic sound, you also have a great voice and nice melodies to bring it all together! I think you have everything there that you need!!"
-- Miller Place: Considerations
"Your vocals have such a distinct tone, and the production does a good job of highlighting it."
-- Lemon Fresh Music
"I think its rock n roll! A little bit of Green Day in there.
-- Pop n Vibes
"Classic, authentic, heartfelt! :-) Reminds of Tom Petty, Neil Young and even a bit Roy Orbison! And Janne Laurila from Finland. Check him out! Yes, I'll share your music! Wishing you the best of luck."
-- Ice Will Melt
"Reminds of CCR. Thank you so much for sending me this cool song, and I've added it to my playlist."
-- ThatEricAlper
"I really loved the soulful vocals and the heartfelt lyrics. Quite a great quality of production too! The melody is very catchy! The solo on the bridge is just amazing. It reminds me of some good 80s rock track :)"
-- Indie Music Center
"Nice guitars and vocals. We have added your song to our playlist 'Best Indie Rock.'"
-- Never Enough Music
"Hey Rusty, production is great, has a nice Travelling Wilburys vibe. Voice is great, there's definitely a mass market on American Radio for this."
-- Leg Puppy
"Hey Rusty, thanks for the submission and hope you're well. 'American Villian' is a solid track I like the moody guitar layers fused with the more uplifting vocals. You have a well crafted sound with a nostalgic country rock edge and some evocative lyrics. Your look is definitely Tom Petty with a vocal which has a sprinkling of Roy Orbison in the higher sections."
-- PlayList Boutique
"From the heart alternative with Americana and 80s soft rock blend. Actually, it evoked a bit of Paul McCartney having a try on Americana music! Will share 'American Villain' soon as part of Young Folks."
-- Last Day Deaf
AMERICAN VILLAIN
He is a nightmare
He is a scourge
He is the Deadly Sins
All seven converged

Half the nation confounded
In their own selfishness
Into the breach he oozed in
The American Villain

Demon messiah
With a torrent of lies
Channeling fear and greed
Toward virtue's demise

Sixty-three million cultists
Will follow him down
Snapping to his every spin
The American Villain

Fake billionaire
Classless concessionaire
A cheat, a creep, a crook, a thief
Traitorous commander-in-chief
But he gives them what they need
Supremacy guaranteed
Their advantage supersedes
American democracy
There's nothing and no one he won't betray
As he takes us back to the bad old days

We don't know just when
This evil chapter will end
But American goodness
Will someday ascend

The history books will warn
Of conservative plague
And a nation's chagrin
The American Villain
The American Villain
The American Villain

Music & Lyrics by Rusty Reid
Copyright © 2020 Rio Paso Music (BMI)

Rusty - vocals, electric guitar, synth strings
Daniel Ribeiro - acoustic guitars, electric guitar, electric slide, keyboards
Jack Williams - bass
Brandon Davis - drums
| | | |
| --- | --- | --- |
| Daniel Ribeiro: guitars, keyboards | Jack Williams: bass | Brandon Davis: drums |
---