The Style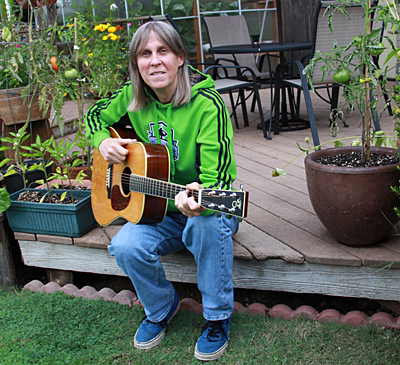 Rusty Reid's music is not easily categorized. It's an alchemy of his influences, which range from pop to rock to country to folk to blues, with even the lilt of show tunes and strains of Dixeland jazz seasoning the mix. It's indie rock, alt-rock, alt-country, country-rock, pop-rock, folk-rock, something-rock. Continuing on today, Rusty has been open to a wide variety of influences, prominently including Hank Williams, Chuck Berry, Jimmie Rodgers, Ferlin Husky, Buddy Holly, Howlin' Wolf, the Everly Brothers, Eddie Cochran, Lightnin' Hopkins, Sam Cooke, Elvis Presley, Marty Robbins, Roy Orbison, Bob Dylan, Donovan, Beach Boys, Paul Revere & the Raiders, Roger Miller, Glen Campbell, Marvin Gaye, Van Morrison, the Byrds, the Hollies, Simon and Garfunkel, the Lovin' Spoonful, the Doors, Moby Grape, Creedence Clearwater Revival, Harry Nilsson, Chicago, Eric Clapton, Denim, Gordon Lightfoot, the Band, Jimi Hendrix, Don McLean, B.J. Thomas, Kenny Loggins, Crosby, Stills, Nash and Young, Cat Stevens, Pink Floyd, Led Zeppelin, the Moody Blues, Willie Nelson, Mickey Newbury, Kris Kristofferson, Emitt Rhodes, Dan Fogelberg, J.D. Souther, Jackson Browne, Joni Mitchell, Elton John, the Eagles, Tom Petty, Queen, the Police, John Mellencamp, Jeff Buckley, Mark Knopfler, Jon Dee Graham, Bob Marley, the Cars, the Clash, the Cult, Grandmaster Flash & the Furious Five, XTC, Split Enz, Crowded House, World Party, ZZ Top, Rockpile, AC/DC, Brian Setzer, Maria McKee, Bruce Springsteen, Queen, Tito Larriva, Elvis Costello, Justin Currie, U2, the Indigo Girls, No Doubt, Nirvana, Shawn Mullins, Brandi Carlisle, Paramore, Keith Urban, Tim McGraw, RZA, Shane Fontayne, Akala, Rage Against the Machine, the Foo Fighters, Prophets of Rage, Radiohead, Steven Wilson, and, of course, the Beatles. The link between all of them: distinctive singers, distinctive songs, often a guitar with attitude, no clones in the bunch.
You can't take Texas out of a Texan. Even though he hasn't lived in the great state for decades, he remains a Texas songwriter, but not so much the traditional spinner of wild tales and clever phrases about livin' and lovin' like the poet masters Kris Kristofferson, Guy Clark, Townes van Zandt, Nanci Griffith, Jon Dee Graham, Lyle Lovett, Vince Bell, Steve Earle, Joe Ely and a whole lotta others. Rather, Rusty is a seeker and conveyor of deeper meaning, a poet philosopher, even a passionate revolutionary. You won't have to wonder where Rusty stands on the big issues that affect not just proximate life and love (or trucks and beer), not just the here and now, but the wider world for centuries to come.
Many acclaimed songwriters place utter confidence in the raw quality of their lyrics integrated with simple melodies and sparse instrumentation, sometimes just acoustic guitar. This bare-bones approach tends to focus the listener's attention on voice and lyrics. That may be why Roy Orbison and Billy Gibbons and Don Henley, master soundscape-crafters, are often left off lists of the best Texas songwriters. Rusty likewise aims to fold vocals and instrumentation into a unique soundscape, which can have the effect of actually diminishing the perceived potency of the lyrics. Yet probe Rusty's lyrics and there are to be found nuggets of original, profound, poetic thought, and certainly an emotional, philosophical, spiritual journey that is one-of-a-kind.
Rusty is a straight-forward writer, his messages succinct and to the point, not abstractly couched. The themes have evolved over the years, from standard love and place songs to cutting social commentary. Many of his songs spring from his own philosophic and spiritual searches, which seek to synthesize the best of the new with the best of the old in order to address dysfunctions that have plagued humanity (and, thus, the rest of the biosphere) for far too long. In that regard, not that much has changed over his five decades as a songwriter. Rusty songs have always featured singular melodies, and even the "protest song" thread has been there all along. "Some of my earliest songs were social commentary. Not that I knew much about what I was commenting on at a young age, but I was struggling to make sense of the world and absorbing what I was hearing coming from radio and records. I was, and still am, a child of the 60s. As time went on, a lot of my generation seemed to lose their idealism, optimism, hippie values. Somehow, I didn't. For me, those values just grew stronger."
Rusty remains a Texas singer, the spirit of the windswept Llano Estacado in his soul. His voice resembles, sometimes, fellow West Texan, Orbison, and other times veers towards the timbre of Elvis Costello or Orbison's Traveling Wilbury bandmate, Tom Petty. He dodges between baritone and tenor, his range weaving from reedy to husky vibrato. A recent ReverbNation survey review of the song "Head to Heart" (with no further information available to reviewers) elicited perceived similarities to Orbison and Petty, but also Chris Isaak, Zac Brown, Jim Croce, Dwight Yoakum, Gary Allan, Brad Paisley, Garth Brooks, Michael Stipe of REM, Elvis Presley, Bob Dylan, Paul McCartney, Jeff Tweedy of Wilco, Kenny Chesney, Art Garfunkel, Jimmy Buffet, Ben Schneider of Lord Huron and John Denver! Make sense of all that, if you can.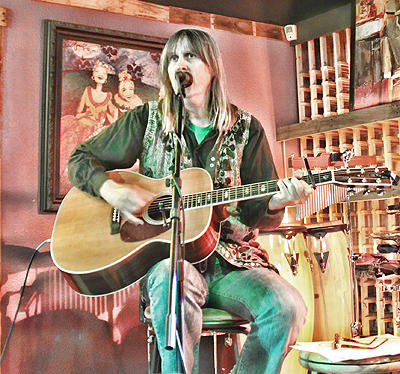 Rusty is a Texas guitar player, more than a strummer, but nowhere in the company of the likes of Robert Johnson, Lightnin' Hopkins, Stevie Ray Vaughn, Billy Gibbons, Eric Johnson, Bill Browder, Rick Poss, Gary Clark Jr. or any of the other numerous, luminous Texas fret-gods. Nevertheless, his playing evokes an original, plaintive style, stripped down but ever melodic arrangement of notes. He's the furthest thing from a shredder, relying instead on simple but memorable runs, earthy tones, sustained notes and no holding back on the whammy bar. His chimey, twangy style also reflects a strong 1960s influence from Orbison (again) and his signature riffs (the classic example being "Pretty Woman" and "Day Tripper"), British pop, surf music, spy flicks and spaghetti westerns. "I'm always looking for that unique guitar hook, a run that seems familiar but is actually unique to the song," Rusty explains. "That is one of the key aspects I loved about 60s music. It seemed like every song had one of those riffs. We have mostly lost that today... not to mention the wonderful melodies of that era. Today it's all about the beat and groove and the sexy or boasting lyric, overlayed upon a ubiquitous melody, and usually lacking any memorable instrumental signature. I'm pretty happy to be a throwback in that musical regard, as well as in terms of thematic social commentary."
Rusty's music is largely hand-made, home-made. It may lack the polish of high dollar studio rooms and gear and the careful massaging of engineering, mixing and producing wizards, nor has Rusty ever had the support of a consistent set of bandmates with whom to collaborate, experiment, build and hone a singular style. Yet the songs flow anyway, the voice and guitar orientation recognizable clues amidst the diversity of styles, along with those lush melodies matched with heartfelt, personal lyrics even when the topic is universal.
Songs. Voice. Guitar. Take all this together, then ask who Rusty sounds like and the answer is clear: no one.
The Albums
2019: Head to Heart
Northern Latitudes Records
Copyright Rio Paso Music (BMI)
Head to Heart is Rusty's "comeback" release, after over a decade of losing musical energy. As the new songs flowed, beginning in 2015, on to notebooks and thence to the digital audio workstation in his home studio, the emerging album began to assume an identity like few other singular collections of songs. This is certainly one of American popular music's most radical, revolutionary albums. Comprised of 16 full songs (and two snippets), Head to Heart is at once a deleneation of a profoundly beautiful and deeply spiritual worldview, combined with a frontal assault on those hoary old traditions and institutions that thwart "our best chance to thrive." All told, it is a call for grand human cultural evolotion and a revolution of spirit.
Click on the album cover image, at right, for images, lyrics and more from Head to Heart.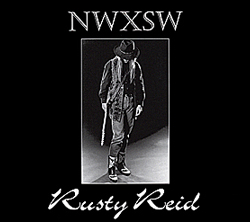 2001: NWXSW
Northern Latitudes Records
Copyright Rio Paso Music (BMI)
Rusty conceived NWXSW (Northwest by Southwest, Rusty's personal journey) as a "best-of" sampler of his songs and and various styles. He assumed this could be his one and only album. It includes 14 songs. The recordings date back to Houston and the early 1980s with his band, the Unreasonables, and carry forward through his 11 years in L.A. from 1984-1995, and thence to Seattle area songs from 1995 to 2000. The album track list is arranged in quasi chronological order combined with an attempt to load the poppier songs up front. The album includes one cover song and two new songs (at the time), the last two on the track list, "Where Do We Go From Now" and "Barbarians."
Click on the album cover image, at right, for images, lyrics and more from NWXSW.